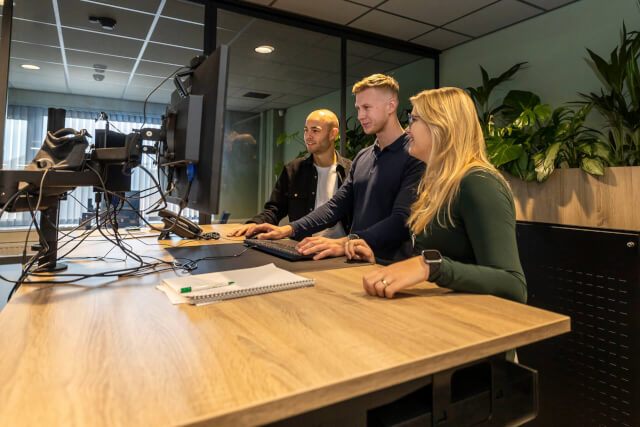 QPI is looking for new colleagues with the 'Q-factor'
And you immediately understand what the Q stands for: for Quality. Because with a name like Quality Produce International, we have set the bar rather high for ourselves. We do everything we can to achieve this every day, with a team of just under 100 permanent employees. And because customers also appreciate our 'quality', we grow. We regularly have vacancies in all departments of QPI as we continue to grow. You will find them below, but first you want to know why working at QPI is just that little bit more fun.
Because you notice that everything is professionally organized with us.
We leave nothing to chance. That is also not possible, in a company where exporting over 3 million kilograms of fruit and vegetables are shipped out every week. Behind the scenes you lack nothing: clear job description, good stuff, clear procedures. From day 1 you notice that the organization has been arranged down to the smallest details
Because we appreciate you.
Of course you can count on a suitable salary. And of course the working conditions may be there. But we also show that we are happy with your efforts in other ways. From spontaneous actions to company parties. Here you feel the appreciation for what you mean to us and to your colleagues.
Because work can also be fun.
At QPI you will join a team that is willing to help each other. A diverse mix of young colleagues and employees who have a lot of experience. Being part of such a team makes working fun. Even if it is sometimes a tough job in the world of fruit and vegetables: fun at work is always paramount. Feel free to call the atmosphere at QPI informal. Also because we maintain a flat organization, with lines that are shorter than short. Work hard, but also laugh hard regularly.
Because we give you opportunities.
Do you want to get further? Even then you are in the right place at QPI. Just tell us where your ambitions lie. In an international company like ours, there are plenty of opportunities to develop. Especially because you can follow courses and training courses with us. We also encourage you to come up with your own initiatives. Your personal development gets a boost here.
Get in touch. We are happy to help you.
Do you have questions?
Vacatures
- geen artikelen gevonden -